Towel Warmers RHINE - Straight Collection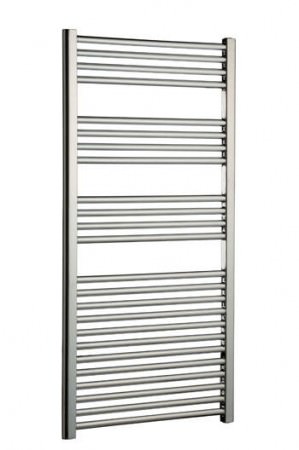 Towel Warmer
Model: RHINE - Straight Collection
RHINE - Straight Collection Towel Warmers
The RHINE - Straight Collection is one of the finest towel radiators in any price range.
Options of 6 sizes and available in chrome finish all with a 5 year element and 10 year body guarantee. This product has passed a 200 hour salt spray test.
We DO NOT and will NEVER use any copper plating in the production of our products. Copper plating technology (used by low-cost manufactures in other countries) produces harmful by-products like copper cyanide which has a devastating effect on the environment.
Six Sizes and Wattages
KTRS - 0800500 150 Watt Electric -Chrome, Polished Nickel, Brushed Nickel or White
KTRS - 0800600 150 Watt Electric -Chrome, Polished Nickel or Brushed Nickel
KTRS - 1200500 300 Watt Electric -Chrome, Polished Nickel, Brushed Nickel
KTRS - 1200600 300 Watt Electric -Chrome, Polished Nickel, Brushed Nickel
KTRS - 1500500 400 Watt Electric -Chrome, Polished Nickel, Brushed Nickel
KTRS - 1500600 400 Watt Electric -Chrome, Polished Nickel, Brushed Nickel
Wall Mounted
10 Year Guarantee
120 C-UL Approved
Electric Towel Warmer
Oil Filled (not hot wire)

Towel Warmer